BARO-Training at HYPOXI-Studio Detmold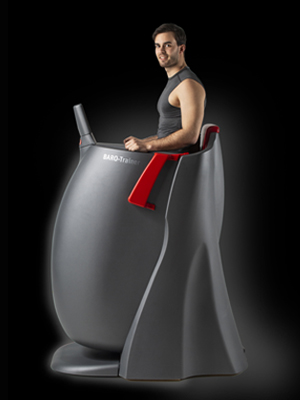 [headline]
THE REVOLUTION OF REGENERATION. First-time start in Detmold (Germany)! The new BARO-Trainer by HYPOXI. 
The so-called BARO-Training offers a tailor-made regeneration- and rehabilitation program – in case of overstressing in daily life as well as in high-performance sport.
The HRV-monitored BARO-Training improves the oxygen supply in the muscles, ensures an extremely rapid degradation of toxins and lactate, and significantly reduces the release of stress hormones.
Initially developed for top-class-sports, the BARO-Trainer by HYPOXI is the result of intensive empiric work in cooperation with a team of well-known performance diagnosticians.
BARO-Training is useful for anyone who feels overstrained or simply seeks for better performance. Not only is it applicable for top athletes, but also for ambitious amateur athletes or people stressed by day-to-day (working) life, no matter of age.
It speeds up the breakdown of toxins and lactate.
It increases the number of capillaries in the muscles.
It supports the reduction of stress hormones.
Starting in November 2019, BARO-Training will be available to the general public in Germany for the first time. The first BARO-Trainer in Germany will be installed in the HYPOXI-Studio in Detmold where it will be presented during a promotion day on November 5th from 10.00 am to 04.00 pm.
On-site will also be the BARO-Mobile, so that interested visitors can have measured the functional condition of their body free of charge.
For further information
www.hypoxistudio-detmold.de/barotraining
Corporate Communications
Peter Indinger
Tel.: +43 662 62983018
E-Mail: p.indinger@hypoxi.com
HYPOXI Produktions- und Vertriebs GmbH
Bayernstraße 23
5071 Wals-Siezenheim
Austria