BARO-Training by HYPOXI

Due to extremely rapid regeneration and shortened rehabilitation after injury, the HYPOXI BARO-Training contributes significantly to increase both physical and mental performance.
It speeds up the breakdown of toxins and lactate.
It supports the reduction of stress hormones.
It increases the number of capillaries in the muscles.
Regeneration: the key to better performance
It's no longer a secret: Anyone who is constantly under stress, permanently damages his health. The result: restlessness, sleep disorders, exhaustion and sometimes even burnout.
Doing sports offers an important balance to the everyday stress. A visit at the gym, a quick jogging session or an intensive tennis match should ensure that we stay healthy, fit and well-balanced. But are these always the best alternatives? How can we know if a workout has been really beneficial? Or if our body is already at its limits so that any additional workload could lead to a drop in performance or an increased risk of injury?
In the last decades, the findings of training sciences has brought about the development of countless methods and devices for efficient training. Efficient regeneration, however, has so far remained a challenge leaving many unanswered questions. Suitable training devices for regeneration are simply still missing. Modern sports watches and the ever more popular fitness-trackers may be helpful and give a certain indication of the functional state of our body. An exact analysis of actual performance is, however, practically impossible. There is no current method for fast and efficient regeneration, despite this being the crucial factor in sustaining or even increasing performance in sports, free time or profession. This gap has now been filled by the HYPOXI BARO-Training.
BARO-Training: the multiple effect
HYPOXI BARO-Training offers a tailor-made regeneration and rehabilitation program – in case of overstressing in daily life as well as in high-performance sports.
The key feature of HYPOXI BARO-Training is its multiple effect:
Even a single application promotes blood circulation, acts regulative on the autonomic nervous system and ensures the rapid degradation of toxins and lactate. As a result, micro sport injuries (muscle soreness) heal faster and the rehabilitation period after major injuries is considerably shortened.
HYPOXI BARO-Training, used on a permanent basis sustainably optimizes the oxygen supply of the muscles and the degradation of stress hormones. The result: increased physical and mental performance, positive thinking, higher motivation and restful sleep.
HYPOXI BARO-Training is useful for anyone who feels overstrained or simply seeks a better performance. Not only is it applicable for top athletes, but also for ambitious amateur athletes or people of all ages stressed by day-to-day working life.
The HYPOXI BARO-Trainer: easy in daily application
BARO-Training is a highly effective method for active regeneration and rehabilitation. The constant monitoring of the heart-rate-variability (HRV) ensures maximum effectiveness and safety for regenerative training in a pressure chamber. The resistance of the bicycle ergometer as well as the overpressure and negative pressure phases are hereby individually adjusted and controlled to the functional state of the exercising person by means of the complex BARO software.
The BARO-Software calculates the functional condition of the body from HRV parameters (power reserve, stress resistance level) and takes gender, age, weight and general fitness into consideration in order to provide a tailor made training programme. BARO-Training of 15 to maximum 30 minutes is applicable daily and at all times of the day.
Leading Technology – not only for professional athletes
HYPOXI is known worldwide for its unique method for targeted fat burning from problem areas. Now we proudly present a technological revolution in the field of regeneration and rehabilitation. The HYPOXI BARO-Training. It is the result of intensive, empirical work completed with a team of renowned performance diagnosticians. In top-class sport the unique effect has been impressively proven by international top athletes. From now on, the new BARO-Trainer is available to all who want to stay fit and strive for a higher performance.
Benefit now from the experience of sports professionals in effective regeneration and rehabilitation!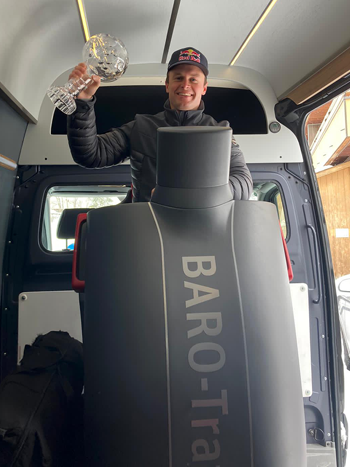 ALEXIS PINTURAULT – Ski Alpine Overall World Cup Winner 2020/21
The ski star from France, winner of a total of two crystal balls in the Alpine Ski World Cup 2020/21, including victory in the overall World Cup, has already integrated BARO-Training into his daily training program in the 2019/20 season.
The BARO-Mobil accompanied him to almost all World Cup stations and enabled him to do regeneration training on competition days and between runs.
We congratulate and thank you for the great cooperation!
The HYPOXI-Team
The FSV ZWICKAU relies on regeneration on the BARO-Trainer from HYPOXI
Thanks to the speedy regeneration and shortened rehabilitation after injuries, the HYPOXI BARO-Training significantly contributes to improving physical and mental performance.
BARO-Training regulates the autonomic nervous system and ensures that toxins and lactate are broken down quickly. It supports the breakdown of stress hormones and increases the number of capillaries in the muscles.
Long-term use of the HYPOXI BARO-Training optimizes the oxygen supply to the muscles and reduces stress hormones in the long term. The result is increased physical and mental performance, positive thinking, more motivation and more restful sleep.
Dr Bernhard Karich, Team doctor FSV Zwickau: "The topic of regeneration is becoming increasingly important as performance increases; Our investigations have shown that the HYPOXI BARO-Trainer has positive effects on the regeneration of the players".
Original article in german language: REGENERATION IM FUSSBALLSPORT (source: www.sportaerztezeitung.com | Ausgabe #4/2021).
For english translation click here: REGENERATION IN FOOTBALL
GERALD BAUER – Extreme Athlete and Performance Diagnostician
Gerald Bauer looks after many athletes at the Salzburg-Rif Olympic Training Center. He trusts in the positive effects of BARO-Training – both during training and competitions.
"Supported by HYPOXI BARO-Training, I was able to significantly improve my physical performance and thus complete the toughest cycling race in the world, the Race Across America." Gerald Bauer
The HYPOXI BARO-Trainer: multifunctional application
The regeneration and rehabilitation program of the HYPOXI BARO-Training is ideal for private use but also for professional application in fitness studios, spas and rehabilitation centers as well as for health professionals such as performance diagnosticians or physicians.
We would be happy to explain in a personal appointment how to optimally integrate this unique method into your business.
Please feel free to contact us by phone under +43 662 629830 or by e-mail barotraining@hypoxi.com.
We look forward to support you.