Introduction to the HYPOXI-Concept HYPOXI-Studio "EXCLUSIVE"
The influence of HYPOXI in the figure forming industry is enormous. Used individually or in combination, the HYPOXI-devices enable successful applications in a very short time. These are used in authorised HYPOXI-Studios. Every HYPOXI product has been specially developed to optimally combine market requirements and customer benefits. The target group for the HYPOXI-Method includes all persons, who want to aim for targeted circumference loss, reduce weight or improve their skin appearance.
Of course, you can download the HYPOXI-Concept "HYPOXI-Studio EXCLUSIVE" as PDF.
You want to create your own business plan for your own HYPOXI-Studio in advance? Then ask for our guide to creating your business plan. We gladly support you.
FIGURES, DATA, FACTS
You decide on your entry into the HYPOXI-world! We will be pleased to develop a model calculation to suit your specific requirements.
For optimal equipment, we advise you. The following diagram shows an overview of the sales opportunities. The calculation of annual sales is based on currently recommended retail prices. The current price list is available on request.
HYPOXI-Studio "EXCLUSIVE 3 devices"
HYPOXI equipment: S120 + Vacunaut + HDC
Investment required: € 76.450.-**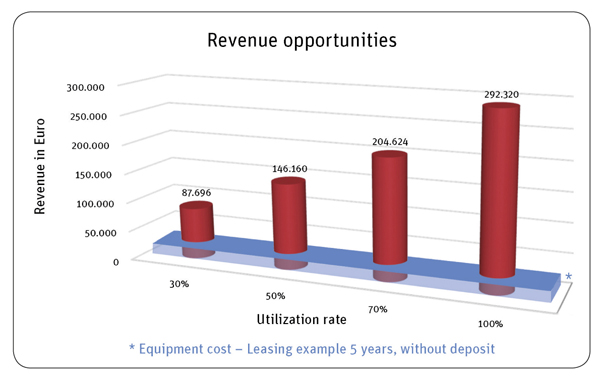 HYPOXI-Studio "EXCLUSIVE 4 devices"
HYPOXI equipment: S120 + L250 + Vacunaut + HDC
Investment required: € 115.400.-**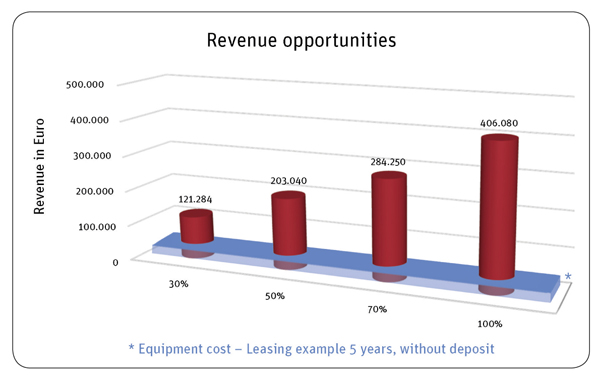 ** required investment exclusive of tax, customs duties, delivery, installation and training; price example of Austria and Germany; prices may vary due to transport, tax and duties.
OUR SERVICE PACKAGE OFFER FOR YOU
As a concept provider our offers include the following services:
• Territory Protection based on catchment area, miles radius, inhabitants and existing studios
• Studio planning
– Support with the choice of the location
– Support in site and market analysis
– Furnishing suggestions in adapted to the room plan
– Advise on the criteria of a lease
– Support with the preparation of the investment and financing plan
– Support with the preparation of a business plan
• Training & Education
– Hotline to master trainer for fast and flexible response
– Free access to the HYPOXI-Extranet (download training material)
– License for up to 5 users for the E-learning program "HYPOXI Sales Pro"
• Marketing
– Studio locator at www.HYPOXI.com
– Free access to the HYPOXI-Extranet (download marketing material)
– Available campaigns
– Free access to HYPOXI intellectual property
– Use of "HYPOXI-Studio" for the company's name
– Your own studio homepage including maintenance for 1 year
• Service & Maintenance
– 1 year manufacturers guarantee
– Annual service program with option for guarantee extension
– 48 h maintenance program guarantee
– Free access to the HYPOXI-Extranet (online reclamation process)
ROOM DESIGN OF HYPOXI-STUDIO "EXCLUSIVE SITE"
• Size: 80-150 sqm
• HYPOXI-Training
• HYPOXI-Dermology
• Consulting area
• Figure analysis area
• Changing room/shower with toilets
• Waiting area
• Technical room (spare parts, cleaning suits, etc.)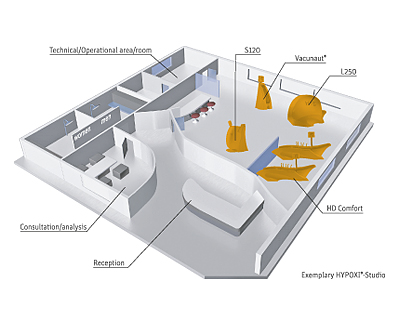 FACTORS TO CONSIDER WHEN CHOOSING A LOCATION
• Sufficient space for a HYPOXI-STUDIO
• Urban, suburban locations or residential areas
• Sufficient parking spaces near location
• Ease of access
• Nearby shopping amenities are beneficial
• Public transport accessibility
• Sufficient potential customers
– An area with a population of 50,000 habitants would generally provide a HYPOXI-Studio with sufficient potential customers
– Previous experience indicates that clients are prepared to travel up to 20 km to get to a HYPOXI-Studio
WHAT EQUIPMENT IS USED IN AN AUTHORIZED HYPOXI-STUDIO?
TRAINER S120
Trainer S120 is a training device operated in a sitting position while being enclosed by a pressure chamber. The pressure chamber is locked airtight from the waist down and is equipped with a negative and an positive pressure function. The S120 combines the positive effects of three highly effective therapies in one device: fat burning training, positive pressure and negative pressure. Exercise is the key element of this therapy as direct fat burning is not possible without some form of physical activity. Negative pressure (vacuum therapy) draws the blood into the dermal and fatty tissue, increasing the supply of nutrients to the area. The positive pressure (compression therapy) encourages the transport of toxins and fluids away from the tissue. This action relieves and supports veins and lymph vessels.
TRAINER L250
Trainer L250 is a training device operated in a comfortable lying position whilst being enclosed by a negative pressure chamber. The negative pressure chamber is closed airtight around the waist and the negative pressure is controlled dynamically by a computer. Training in the L250 facilitates moderate fat burning training, irrespective of body weight or fitness level. Constantly alternating between negative pressure and normal pressure during the treatment has the effect of increasing circulation to the targeted lower region. Due to the lying position and the upward pedalling action, the earth's gravity assists to drain fluids and transport fatty acids away from the legs, naturally and healthily.
VACUNAUT AND PRESSURESUIT
The Vacunaut consists of a vacuum exercise suit with an integrated fat activation system around the stomach and hip areas, a technical column with a computer control system and an integrated compressor. This is adjusted by an operation column with integrated technology and electronics for accurate control of treatment. The negative pressure suit is appropriate for exercise on any common cardio-training-device like an ergo-meter, treadmill, elliptical trainer, stepper, cross trainer or bike. The Vacunaut and PressureSuit combination is the most effective way for treating the hips and stomach. The technology and software responsible for creating the pressure phases throughout the treatment are located inside the Vacunaut column. The alternating pressure is applied to the client whilst wearing a PressureSuit connected to the Vacunaut column via a system of hoses. The PressureSuit comprises of 122 internal activation chambers which apply varying pressure to the abdomen and hips area. The PressureSuit allows the client to undertake moderate training in complete comfort.
HYPOXI-DERMOLOGY
HD-Comfort is a treatment bed with integrated technology and a computer terminal for controlling the HYPOXI-Dermology treatment. The lying cushions perfectly meet the ergo-metric requirements of HYPOXI-Dermology. The HYPOXI-Dermology Comfort is an extremely effective therapy device for firming the skin. The HD-Comfort was developed to specifically activate metabolism in the connective tissue. The HD-Comfort Lounger is used in combination with the HD-PressureSuit. The skin firming effects of this combination are unrivalled. The 400 integrated activation chambers of the PressureSuit are able to treat every affected area of the body simultaneously. The effects of this treatment are 200 times more intensive than conventional cupping. As a result, optimal results are achieved after only 20 minutes of treatment. The improvements are visible after only a few sessions.