A new HYPOXI location in Lindau, Lake Constance, Germany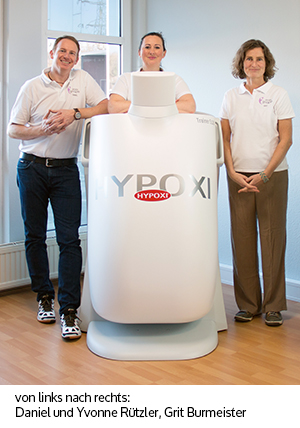 [headline]
The HYPOXI-Studio Lindau has been open since February 2022.
"My name is Daniel Rützler. I have been working in the body forming industry with my wife Yvonne for two years. We wanted to expand our offer because we have received a lot of positive feedback about HYPOXI from our environment. So we decided to open a new HYPOXI-Studio in Lindau."
The team was educated by Master Trainer Yvonne Koch, to offer the HYPOXI-Training for those who suffer from Lipoedema alongside the HYPOXI Intensive and follow up programs.
The unique mode of action of the HYPOXI-Method can sustainably increase the quality of life of lipoedema sufferers. You can find more information about the HYPOXI-Lipoedema study, results, and Lipoedema on the Lipoedema-blog.
Together with Yvonne and Daniel Rützler we are pleased that there is now also the possibility to use the HYPOXI-Method in the region of the beautiful Lake Constance.
Corporate Communications
Peter Indinger
Tel.: +43 7667 2151518
E-Mail: p.indinger@hypoxi.com
HYPOXI Produktions- und Vertriebs GmbH
Wildenhag 88
4881 Straß im Attergau
Austria