HYPOXI is pleased to announce a new location in Epfendorf, Germany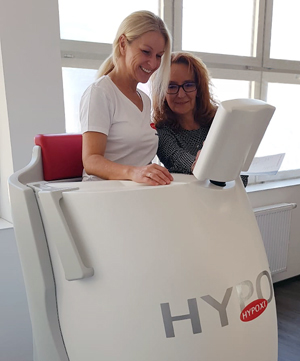 [headline]
Heike Lange and her team will open their HYPOXI-Studio in Epfendorf, Baden-Württemberg on May 4th this year.
Ms. Lange and her husband became aware of HYPOXI on AIDAnova, the new flagship from AIDA Cruises. After a few treatments she was so convinced of the HYPOXI-Method that she opens her own studio for targeted body shaping now.
The team of HYPOXI-Studio Epfendorf was educated by Master Trainer Yvonne Koch, to offer the HYPOXI-Training for those who suffer from Lipoedema alongside the HYPOXI Intensive and follow up programs.
The unique mechanism of the HYPOXI-Method can sustainably increase the quality of life of those affected by Lipoedema.
Read more about the results of the HYPOXI-Lipoedema study and on the topic of Lipoedema in our Lipoedema-blog.
Corporate Communications
Peter Indinger
Tel.: +43 7667 2151518
E-Mail: p.indinger@hypoxi.com
HYPOXI Produktions- und Vertriebs GmbH
Wildenhag 88
4881 Straß im Attergau
Austria