HYPOXI is pleased to announce a new location in Küsnacht, Switzerland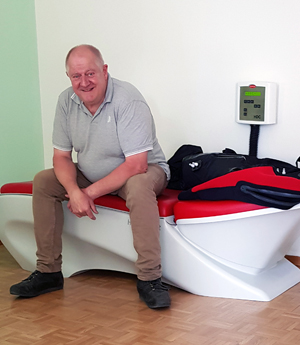 Andreas Friedli opened his HYPOXI-Studio in Küsnacht, Switzerland, on the 28th of May this year and offers the HYPOXI-Method in his practice specialising in massage.
An added value for every customer is the possibility to use the services of an experienced masseur in addition to the Targeted figure-shaping using the HYPOXI-Method.
Andreas Friedli had been 'toying' with the idea, for some time to offer HYPOXI. After a room became free in his practice, everything quickly took shape.
Despite stricter corona entry regulations, the delivery of the devices went surprisingly well.
Mr. Friedli was trained by our Master-Trainer Yvonne Koch to offer not only the classic HYPOXI intensive and maintenance programs but also the specific HYPOXI-Training for those suffering from lipoedema.
Together with Mr. Friedli, we are pleased that there is now the possibility to use the HYPOXI-Method on the beautiful Lake Zurich.
Corporate Communications
Peter Indinger
Tel.: +43 7667 2151518
E-Mail: p.indinger@hypoxi.com
HYPOXI Produktions- und Vertriebs GmbH
Wildenhag 88
4881 Straß im Attergau
Austria