HYPOXI in Belgium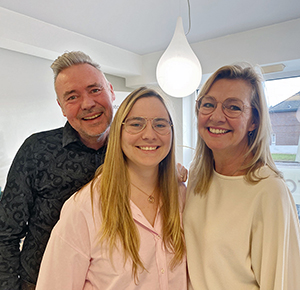 [headline]
Where it all began…
Luc Pauwels (52) and Conny De Smedt (52) founded Beau Style in 2008 in Ninove, Belgium, a beauty and figure-shaping studio. Over the years, the company has developed into an established company with the HYPOXI-Method as an important flagship.
In 2014, the two started as regional developers for the HYPOXI brand. Due to health problems, however, this task could not be pursued as intended, and development stagnated. Nevertheless, with their 15th anniversary this year, they're off to a great start again and look forward to focusing their total concentration on their core brand HYPOXI.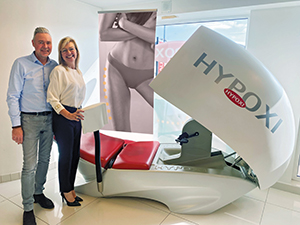 Where we are right now…
When their daughter Ines Pauwels (26) joined the family business at the beginning of 2023, a new chapter in the Beau Style success story began.
The company's restructuring, made feasible by the entry of Ines, makes it possible to start over as an HYPOXI regional developer for Belgium, the Netherlands and Luxembourg.
Ines' master's degree and international business experience, in combination with Luc and Conny's many years of practical experience with HYPOXI, are the perfect complement to continue the success story of HYPOXI Benelux.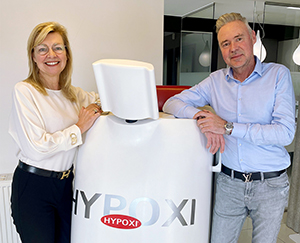 Where we are going in the future…
The aim is to further develop the HYPOXI brand in the Benelux countries and to strengthen the brand's image in the body shaping and fitness industry. Beau Style serves as a flagship store.
The HYPOXI team, consisting of Luc, Conny and Ines, will support the existing partner studios and promote the development of new studios using the unique and proven HYPOXI-Method.
Luc is primarily responsible for sales but also handles technical support and maintenance of the HYPOXI devices.
Conny will educate and train the HYPOXI-Coaches of new HYPOXI-Partners and offer refresher courses for existing studios.
Ines is responsible for marketing, development of the website and social media channels, as well as for strategic issues.
Corporate Communications
Peter Indinger
Tel.: +43 7667 2151518
E-Mail: p.indinger@hypoxi.com
HYPOXI Produktions- und Vertriebs GmbH
Wildenhag 88
4881 Straß im Attergau
Austria