HYPOXI-Method: targeted body shaping without dieting obsessions and yo-yo effects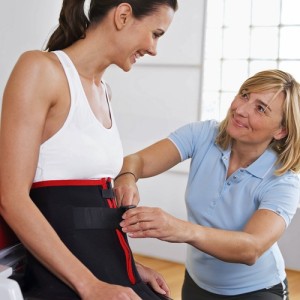 [headline]
Breaks down fat deposits in the right places and at the same time firms your skin – two wishes that boom in spring. These can come true with the HYPOXI-Method: An innovative combination of positive and negative pressure treatment and effective training promotes blood circulation, fat reduction and skin firming in problem areas. The best part of it: the method is also suitable for couch potatoes and the yo-yo effect is no longer an issue.
Alongside spring fever, some doubts are also raised with the first rays of sun: Women remember the festive season, when they over-indulged on favourite foods. Good resolutions immediately follow, and there are always new diet methods which promise impressive results in a short period of time. A word of caution, however: the euphoria over the lost kilos disappears quickly because most diets only help temporarily and end with a yo-yo effect. What's more: Crash diets can have a negative effect straight away on the metabolism and fat reduction.
HYPOXI consciously opposes this dieting obsession and allows targeted body shaping alongside a balanced, rich and healthy diet. Four different HYPOXI devices offer proper, individual and natural treatment for every problem area. The alternating pressure targeted towards the problem areas of the hips, stomach, bum and thighs stimulates circulation in parts of the body where this is usually poor. The metabolism is thus stimulated more in the desired area. The fatty acids are taken away and burned quickly and effectively by the circulatory system. This type of blood circulation promotion is combined with a moderate fat burning workout that doesn't even work up a sweat in couch potatoes
The HYPOXI-Training is offered in authorised HYPOXI-Studios. The time required is limited: After one to three months of HYPOXI-Training with three 30-minute units per week, there is not only a lasting reduction in the size of the problem areas, but connective tissue is also strengthened, the skin is tighter and cellulite is reduced considerably.
A central part of the HYPOXI-Method is the intensive, personal advice and support by trained HYPOXI-Coaches. Individual training plans are designed according to the customer's situation and objectives. Furthermore the coaches also give tips and suggestions for maintaining a healthy and regular diet – an important requirement for a lasting body shaping without a yo-yo effect.
Corporate Communications
Peter Indinger
Tel.: +43 7667 2151518
E-Mail: p.indinger@hypoxi.com
HYPOXI Produktions- und Vertriebs GmbH
Wildenhag 88
4881 Straß im Attergau
Austria