HYPOXI-Studio opening in Düsseldorf Süd, Germany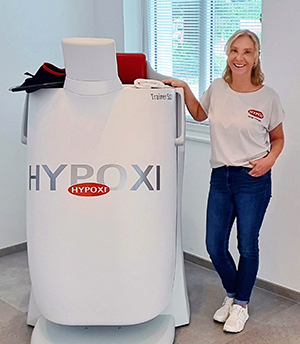 [headline]
In July 2022 Sabina Terkatz opened her HYPOXI-Studio in Düsseldorf Süd, Germany.
Being an HYPOXI customer a few years ago and very enthusiastic about the concept, she has decided to open her studio now.
An added value for every customer is the possibility of using the services of a certified nutritionist, in addition to the targeted figure-shaping using the HYPOXI-Method.
Ms Terkatz and her team were trained by our Master Trainer Yvonne Koch to offer not only the classic HYPOXI intensive and maintenance programs but also the specific HYPOXI-Training for those suffering from lipoedema. The unique mode of action of the HYPOXI-Method can sustainably increase the quality of life of lipoedema sufferers.
We are happy that there is now also a top destination for targeted body forming in Düsseldorf, and we wish Ms Terkatz every success.
Corporate Communications
Peter Indinger
Tel.: +43 7667 2151518
E-Mail: p.indinger@hypoxi.com
HYPOXI Produktions- und Vertriebs GmbH
Wildenhag 88
4881 Straß im Attergau
Austria