HYPOXI UAE awarded additional territories for highly acclaimed HYPOXI body forming concept
Jean Pereira, Business Development Manager, HYPOXI Training Equipment L.L.C.; Uwe Hintringer, Director of Sales & Marketing, HYPOXI Headquarter Salzburg; Allison Pickford, Director, HYPOXI Training Equipment L.L.C.; Kevin Pickford, CEO, HYPOXI Training Equipment L.L.C.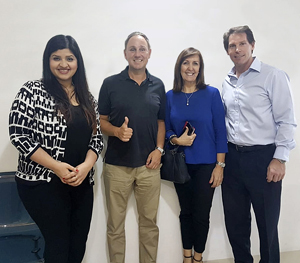 [headline]
Today, HYPOXI UAE announced it has been awarded the official and exclusive distribution rights for the entire MENA region in addition to Seychelles, Mauritius and Maldives.
Owing to the expertise and success of operating HYPOXI in BodySmart, a boutique slimming studio, for over 13 years, Allison Pickford, Founder and Director of BodySmart, acquired the Exclusive Distribution of HYPOXI in the UAE in July 2014.
Uwe Hintringer, Director of Sales & Marketing – authorised officer for HYPOXI, commented on the announcement "We have extended the territories for HYPOXI UAE because of their success and dedication to building the HYPOXI brand in the region since 2005. Through the distribution network and dedicated studios across UAE, the team has strongly controlled the quality of HYPOXI Studios and ensured every studio is fully equipped for the HYPOXI-Method."
Allison Pickford says, "Our business model has proven to be repeatable and commercially viable thus making it easy to roll out more studios. We have an established platform with technicians, trainers, marketing and sales team to support our expansion plans and therefore, felt it is the right time to take that success into additional territories."
HYPOXI MENA has now partnered with a local leasing company which will bring along great opportunities owing to several years' experience in the financing sector in the Middle East.
Pickford proudly declares, "There are exciting partnerships planned in the future that will really take the HYPOXI brand and ethos which is 'the most targeted method for a beautiful body' to the next global level".
Corporate Communications
Peter Indinger
Tel.: +43 7667 2151518
E-Mail: p.indinger@hypoxi.com
HYPOXI Produktions- und Vertriebs GmbH
Wildenhag 88
4881 Straß im Attergau
Austria