Listen up, men! Flat stomach? How it works!

For all men who want to shape their stomach and theighten the belt – contact us now for a free test training!
Important Information
Dear customers, HYPOXI-Fans
Due to the current situation in connection with the spread of the Corona virus (COVID-19), business operations in many HYPOXI-Studios worldwide are temporarily suspended. In the current rapidly changing environment, the safety and well-being of our customers and employees must be our first priority. This temporary suspension is intended to contribute to global efforts by governments to mitigate the effects of the proliferation of COVID-19.
When the reopening of the currently closed HYPOXI-Studios takes place, will vary from country to country. We therefore ask you to please observe the information coming from your respective authorities.
Feel free contacting us NOW for a free trial training session – an authorised HYPOXI-Partner in your area will get in touch with you to take care of your request! The trial training session can be completed AFTER the reopening of the currently closed HYPOXI-Studios.
Stay healthy!
Your HYPOXI-Team
A flat stomach – achieve your goal quickly and sustainably!
Take the first step to your new body feeling – with the HYPOXI-Method for a flat stomach!
Sign up for your free HYPOXI test training today and give the targeted method for a beautiful figure a try!
This is what you get with a free HYPOXI test training:
* Introduction to the HYPOXI-Method and the advantages
* Individual consulting interview with body analysis
* One session trial with a recommended HYPOXI device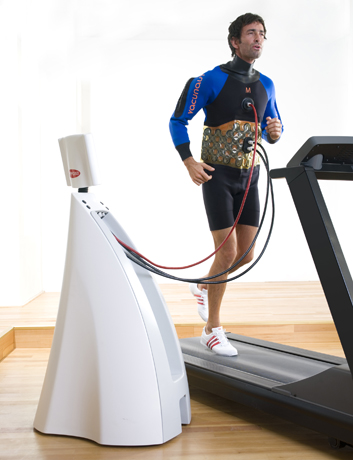 The HYPOXI Vacunaut & PressureSuit targets the problem areas, stomach and hips. The pressure conditions necessary for the treatment are created in the Vacunaut column and then passed into the PressureSuit – a specifically designed suit. The suit's activation chambers alternately exert positive pressure and negative pressure on the entire stomach and hip region. At the same time, you perform moderate fat burning exercise on a treadmill.

Join the NEWSLETTER for free!
Receive the latest information on the subject targeted body shaping with the HYPOXI-Method as well as news and highlights from the world of HYPOXI at regular intervals.
Contact us NOW for a free test training  – our closest HYPOXI partner will contact you at your preferred time and communication channel!
Do you want to recommend HYPOXI to your friends, family and co-workers? Please use the share buttons below – thanks a lot!