HYPOXI-Studio opening in Herford, Germany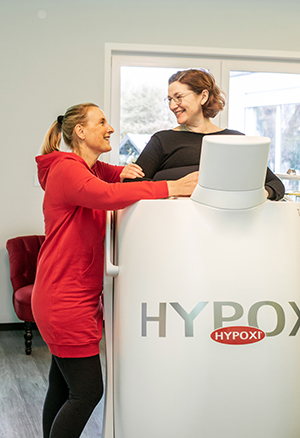 [headline]
On March 1st, 2022, Kerstin Straßen opened her beautiful new studio in Herford, North Rhine-Westphalia.
Ms Straßen and her team were trained by our Master Trainer Yvonne Koch to offer not only the classic HYPOXI intensive and maintenance programs but also the specific HYPOXI-Training for those suffering from lipoedema.
The unique mode of action of the HYPOXI-Method can sustainably increase the quality of life of lipoedema sufferers. You can find more information about the HYPOXI-Lipoedema study, results, and Lipoedema on the Lipoedema-blog.
An added value for each customer is that in addition to the targeted figure shaping with HYPOXI in the studio, Pilates & Personal Training, nutritional advice and metabolic regulation are also offered.
We are happy that the HYPOXI-Method is now offered in Herford, and we wish Kerstin Straßen every success.
Corporate Communications
Peter Indinger
Tel.: +43 7667 2151518
E-Mail: p.indinger@hypoxi.com
HYPOXI Produktions- und Vertriebs GmbH
Wildenhag 88
4881 Straß im Attergau
Austria