"How I got rid of my baby fat!"
[headline]
Nadja C. (36), Germany.
Nadja C. trained at the HYPOXI-Studio in Bayreuth. Her starting weight was 80.5 kg, after only 3 months HYPOXI-Training her weight was down to 70.3 kg. Nadja is a mother of twins.
I had tried several diets (pills, eating half only, counting calories etc.) and finally dropped them all as I never experienced any success. Besides, after giving birth to my twins a surgical mesh was implanted. . The doctors advised me to be aware that therefore in future I would hardly be able to lose weight in the part of the stomach.
By the time I came to HYPOXI of course for that reason I was sceptical, however after the first 6 treatments I had already lost 20 cm of circumference (Editor's notice: on a total of 8 measurement points)! After 3 months I had lost incredible 85 cm of circumference and 10.2 kg in weight! All this without torture or starvation (loss of circumference in detail: waist -10 cm, stomach -16 cm, hips -17 cm, buttocks -11 cm, "saddle bag phenomenon" -9 cm, thighs each -6 cm, knee each -5 cm).
The studio ambient is more than pleasant and the atmosphere already really familiar.
Every woman who is unsatisfied with her body, I can only recommend HYPOXI. I feel like a new person, fit and completely well in my own skin. A totally new experience to have dropped one dress size already in the 6th week of treatment. Thanks to HYPOXI, not only is my body in a beautiful shape but I experience a completely new self-esteem too. I simply feel great!
After 4 month without HYPOXI I can assure you that the HYPOXI-Method works, long-lasting and without any Yo-Yo effect! Quite contrary – after HYPOXI I lost weight again, without sports or dieting. I simply stuck to the HYPOXI nutritional guidelines. During the treatments my coach, Mrs. Hofmann, repeatedly predicted that from now on losing weight would be much easier for me, probably due to an optimized metabolism by doing HYPOXI-Training.
I can clearly confirm this! Now I am wearing dress size 36 (EU size) – 4 months before I was a size 42 – and in total I lost 20 kg! I am super happy!"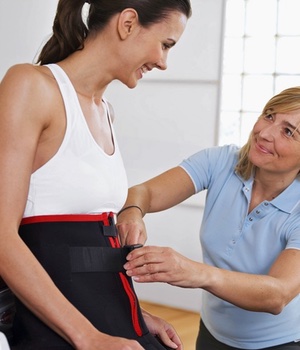 Sign up for your free and non-binding HYPOXI test training!
Experience for "real" how HYPOXI can help you to improve your body feeling  – just book your free training today at an authorised partner close to you.
This is what you get with a free HYPOXI test training:
* Introduction to the HYPOXI-Method and the advantages
* Individual consulting interview with body analysis
* One session trial with a recommended HYPOXI device